A Question of – Hunt All Night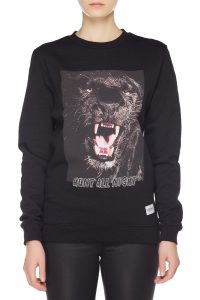 Som med alla kläder från A Question Of är denna sweatshirt också gjord av 100% ekologisk bomull som är GOTS godkänd. Tröjan är gjord i Turkiet under etiska arbetsförhållanden. A Question Of jobbar för att kunna erbjuda moderiktiga produkter samtidigt som världen blir bättre att leva i.
Tröjan har ett stort tryck av en panter på framsidan med texten Hunt All Night, även en diskret logo från A Question Of finns nära den nedre mudden. Mudden i ärmarna och halslinningen är svart och matchar bra. Den borstade effekten ger tröjan den eftertraktade sweatshirt känslan, nästan en känsla av persika. Tröjan är lite tjockare än andra sweatshirts vilket gör att den går att använda längre in på hösten.